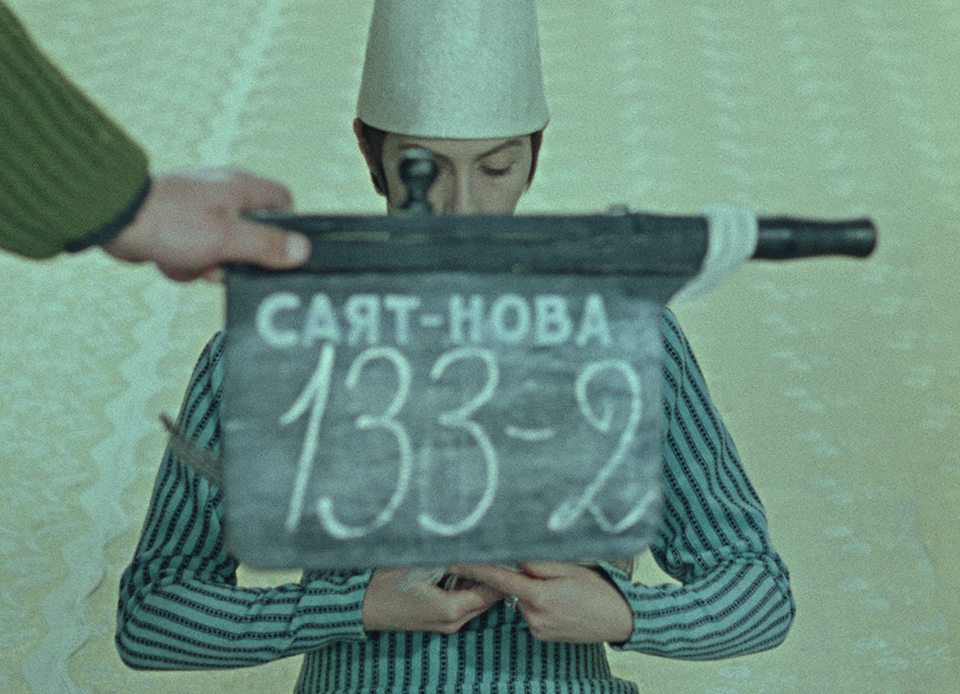 Kijowskie Freski, Hakob Hovnatanian, Arabesques On The Pirosmani Theme oraz niewykorzystane w filmie sceny "Koloru Granatu" w reż. Siergieja Paradżanowa będzie można zobaczyć podczas Międzynarodowego Festiwalu Filmowego w Rotterdamie, który odbędzie się w dniach 23 stycznia – 3 lutego.
W ZSRR praktyką było niszczenie taśm filmowych w celu pozyskania z nich kryształków srebra. Udało się jednak ocalić 12 godzin materiałów do filmu "Kolor Granatu" (1968) w reż. Siergieja Paradżanowa. Materiały te nie weszły do finalnej wersji filmu, ani nie zostały poddane obróbce montażowej i rekonstrukcji. 3 godziny wybranych materiałów będzie można zobaczyć na wystawie w kościele Arminius w Rotterdamie. Poszczególne fragmenty nagrań będą wyświetlane na 24 ekranach o różnych rozmiarach. W ten sposób twórcy wystawy Temple of Cinema # 1: Outsakes Sayat Nova pragną jak najlepiej oddać artystyczną wizję Paradżanowa.
WARTO ZOBACZYĆ

Podczas IFFR 2019 będzie można również zobaczyć trzy inne krótkometrażowe zrekonstruowane przez Fixafilm filmy tego reżysera: Kijowskie Freski (1965), Hakob Hovnatanian (1967) oraz Arabesques On The Pirosmani Theme (1985). Oryginalne taśmy filmowe wszystkich filmów sprowadziła do Polski Fixafilm w porozumieniu z władzami i instytucjami Armenii, Gruzji i Ukrainy. Filmy zostały następnie poddane skanowaniu, rekonstrukcji, korekcji barwnej oraz zostały zremasterowane.
OCALMY PRZED ZAPOMNIENIEM

Pokaz dzieł Paradżanowa na IFFR to nie tylko uznanie dla dorobku reżysera i przybliżenie jego filmografii szerszej publiczności, ale również zwrócenie uwagi na potrzebę troski i podjęcia działań w celu zachowania dorobku filmowego dawnych państw ZSRR poprzez stworzenie repozytorium. Towarzyszyć mu będzie sympozjum, podczas którego głos zabierze Daniel Bird – inicjator rekonstrukcji dzieł Paradżanowa, Valerie Pozner – francuski specjalista z zakresu sowieckiej i rosyjskiej kinematografii, James Steffen – amerykański historyk kina i autor książki The Cinema of Parajanov , Zaven Sarsgyan – założyciel Muzeum Paradżanowa oraz Levon Abrahamyan – entograf i aktor Paradżanowa.
W ŚWIECIE PARADŻANOWA

"Kolor Granatu", którego niepublikowane sceny będzie można obejrzeć podczas IFFR, to dokumentalny film o poecie Sayata Novy, który po śmierci swojej ukochanej wstępuje do klasztoru. Film opowiedziany jest za pomocą malarskich sekwencji ujęć opatrzonych wierszami poety. Całość wypełniona jest licznymi alegoriami i symbolami. Poprzez wykorzystanie w filmie elementów architektury sakralnej, kultury i sztuki Armenii Paradżanow stara się przybliżyć widzom duchowe dziedzictwo Ormian. Poszczególne etapy życia bohatera filmu widzowie mogą śledzić za pomocą krótkich scenek pokazywanych prawie zawsze z tej samej perspektywy, co tworzy wrażenie śledzenia biegu wydarzeń jak przez dziurkę od klucza.
Siergiej Paradżanow był radzieckim reżyserem ormiańskiego pochodzenia uznawanym za jednego z najwybitniejszych twórców kina w XX wieku. Przez wiele lat był politycznie prześladowany i więziony za głoszone przez siebie poglądy i niezależność artystyczną.