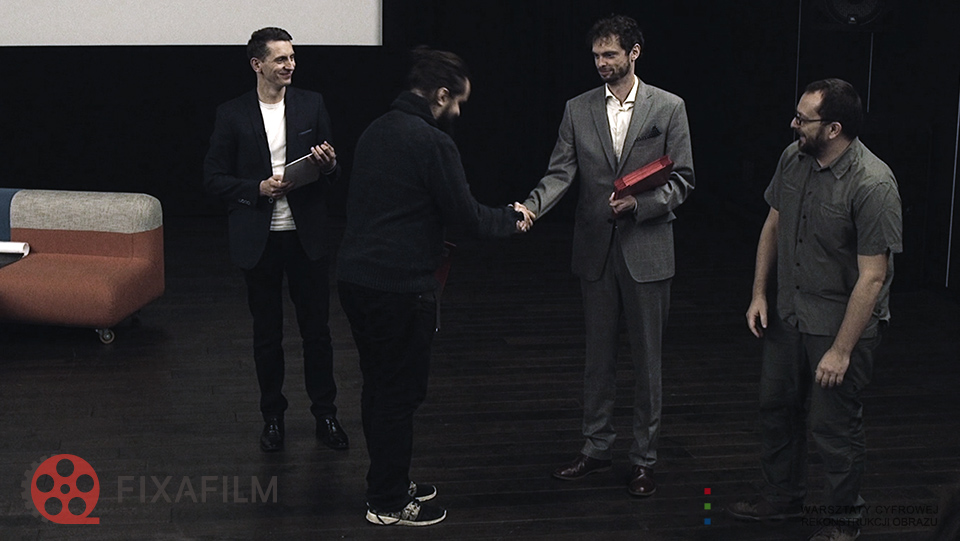 27 października zakończyły się I warsztaty cyfrowej rekonstrukcji obrazu organizowane przez Fixafilm. Na spotkaniu podsumowującym uczestnicy obejrzeli dwie etiudy filmowe, nad których rekonstrukcją pracowali przez ostatnie dwa tygodnie. Po każdej z nich toczyła się burzliwa dyskusja. Jednak prawdziwą wisienką na torcie okazało się spotkanie z reżyserem Krzysztofem Zanussim i pokaz filmu Iluminacja. Na zakończenie każdy absolwent warsztatów otrzymał dyplom, potwierdzający jego udział w szkoleniu.
REKO-ZAKRĘCENI
Minione trzy tygodnie dla uczestników warsztatów były istnym szaleństwem. Rzuceni na głęboką wodę poznawali tajniki rekonstrukcji podczas wykładów ze specjalistami z WFDiF, FINA, CRF, TPS, Ronin Studio, Media Inventions oraz Fixafilm. Następnie mogli zmierzyć się z rekonstrukcją cyfrową w praktyce. Zadanie to było dla nich tak pasjonujące, że wielokrotnie tracili rachubę czasu, pomijając przerwy w zajęciach czy zostając choćby na 5 minut dłużej by dokończyć pracę nad ujęciem. Warsztaty dały uczestnikom nowe możliwości rozwoju, a po zetknięciu się z cyfrową rekonstrukcją wielu z nich chciałoby związać z nią swoją przyszłość.
NIE MóWIMY KONIEC
W kuluarach dało się słyszeć, że nie żałują swojego udziału w warsztatach, a wręcz przeciwnie – z chęcią wzięliby w nich udział jeszcze raz. Choć był to wymagający czas zarówno dla uczestników, jak i wykładowców, dało się odczuć nutkę melancholii, że przygoda dobiega już końca.
Dla Fixafilm to jednak nie koniec podróży. Już 13 listopada rusza II edycja warsztatów, gdzie kolejnych 12 śmiałków zmierzy się ze sztuką rekonstrukcji cyfrowej.
WARSZTATY TO NASZ WSPóLNY SUKCES
Organizacja tego przedsięwzięcia nie byłaby jednak możliwa bez wsparcia finansowego Polski Instytut Sztuki Filmowej oraz parterów wydarzenia, którym serdecznie dziękujemy.
Partnerzy: Studio Filmowe Kadr, Studio Filmowe Tor, Studio Filmowe Zebra, Wytwórnia Filmów Dokumentalnych i Fabularnych, Filmoteka Narodowa – Narodowy Instytut Audiowizualny, Ronin Group Studio, Media Inventions s.c., ORKA, TPS Film Studio, Cyfrowe Repozytorium Filmowe, PWSFTviT w Łodzi/ Łódzka Szkoła Filmowa, Szkoła Wajdy, Magazyn Filmpro, Fi:Re – Film Restoration Summit Film Restoration Summit – Warsaw 2017, Digital Image Restoration Workshops 2017, Fundacja Picturae Movens